Industrial & building use
Industrial & building use
Industrial & building use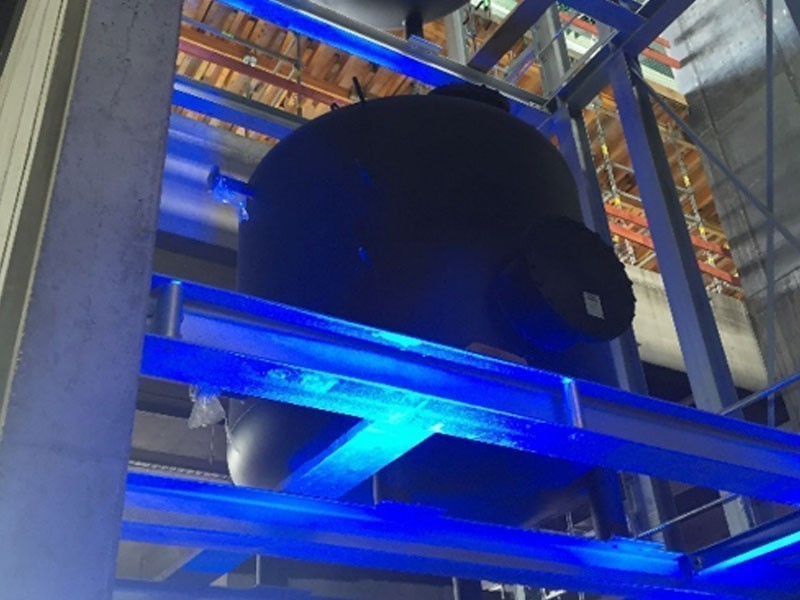 Compared to water-based storage facilities, phase-change materials are capable of storing much more energy. In the case of the Axiotherm PCM hybrid storage solutions with HeatSel or HeatStixx, this is three to four times the amount of cold or heat, most notably at a consistent temperature level.
This enables solar thermal systems, for instance, to store more solar heat due to the lower storage temperature. Connected heating or cooling devices can be operated for much longer at a time, which increases the service life significantly. Heat pumps can be operated with much greater efficiency thanks to the consistent (and lower) storage temperature. The same applies to cooling equipment thanks to a temperature level that is optimised for air conditioning purposes, such as that use in Futurium in Berlin. For instance, Axiotherm energy storage facilities can be used to temporarily store renewable or cheaply generated heat or cold for later use when needed in a variety of applications.
For commercial electricity consumer, for instance, this can enable peak shaving or peak shifting in order to reduce grid costs to a significant degree. Combined heat & power plants can also be operated much more flexibility, in this case through their use of electricity.
Another application example is large office buildings that nowadays only require low amounts of heat output due to the internal heat sources such as people, computers, lighting and other machinery. The ventilation required to ensure a good quality of air in the rooms often plays an important here. By incorporating HeatStaxx Air into central or localised ventilation systems, these heat requirements can be further reduced significantly using optimised heat recovery compared to the currently used ceramic storage. Assuming that an appropriate phase change temperature (melting point/melting range) is selected, these can also be used to cool the building during the summer months. The HeatStaxx Air is frozen for this purpose during the cool summer nights and used on the following day to cool the extracted outdoor air. This system is superbly suited to server cooling in data centres, where the use and storage of cold night energy enables drastic reductions in operating costs for the necessary refrigeration.
---
Related products
Contact
1. Headquarters + Production

Axiotherm GmbH

Bahnhofstraße 31
D-07607 Eisenberg/Thüringen

Phone: +49 (0) 36691 53 118
Fax: +49 (0) 36691 53 120
mailbox@axiotherm.de

2. Development + technical tests

Axiotherm GmbH

Fürstenwalder Chaussee 27k
D-15526 Bad Saarow

Phone: +49 (0) 33631 43 31 41
Fax: +49 (0) 33631 36 97 47

3. Sales Partner

kraftBoxx gmbh

Riedweg 5
D-88326 Aulendorf

Phone: +49 7525 924 382
E-Mail: info@kraftboxx.de

www.kraftboxx.com
Send request